How to Add Money to Your Child's Account
Submit Your Education Benefits Form Today
IT'S MORE THAN THE FORM
We strongly encourage all parents/guardians to return their Education Benefits Form. Completing this form takes less than 5 minutes and can help students receive important resources.
EVERY FORM COUNTS!
Every application that is not submitted means lost educational programs and resources for our students.
Filling out the Education Benefits Form may help provide:
Health & Wellness Services

Before and After School Academic & Enrichment Programs

Guidance & College Counselors

Fee Waivers for College Applications & Admissions Tests

Resources for Classrooms, Teachers & Children
New School Year Brings Foods Kids Love and Interactive Nutrition Education for Students at Dundee Community Schools
Chartwells K12 is Making Mealtime a School Day Highlight for Students in Monroe County
Dundee, MI August 1, 2023 – As the summer comes to an end and the school year begins, hard-working cafeteria professionals at Dundee Community Schools are ready to go above and beyond to serve healthy meals to students each day. These school lunch heroes ensure that students leave the cafeteria happier and healthier than when they came in by serving food kids love to eat, offering interactive nutrition education that encourages fun and discovery, and creating a place where students can connect and recharge.
The start of a new school year presents the perfect opportunity for students to enjoy their favorite meals and try new foods. This year, the value of school lunch is top of mind as families continue to experience inflation and growing food costs at home. In addition to giving kids the chance to try new foods and cut back on food waste, school lunch provides students with healthy, balanced and safe meals at an affordable price, while saving families time and stress.
"Nutrition plays a vital role in students' academic performance, overall health, and well-being," said Crystal Lee, Director of Dining Service Chartwells K12 at Dundee Community Schools. "This year, students can expect to fuel their busy days with favorite menu items and a variety of delicious new recipes."
Food Kids Love to Eat
Chartwells' dedicated team of culinary professionals and nutrition experts have been hard at work crafting a menu that not only meets strict nutritional guidelines, but also appeals to the diverse tastes and preferences of students at Dundee Community Schools. The cafeteria team takes pride in offering healthy food that kids love to eat that will fuel their bodies and minds throughout the day. Students can look forward to meals during the first week of school that include: Viking Bowl, Pasta Day and Taco/Nacho Tuesdays
Quesadilla Pork Carnita

Walking Taco Beef and Queso

Corn and Pineapple Salsa
Universal Free Meals
For the upcoming 2023-24 school year, Michigan has authorized universal free meals for all students. This means students will have the opportunity to enjoy Breakfast and Lunch at no cost throughout the academic year. It is important to note that families should still complete a free and reduced-price meal application, which helps ensure ongoing state funding and can qualify your child's school or community for other special programs like free summer meals. Parents or guardians can submit this application online at https://www.dundeecommunityschools.org/page/food-service or in person at your child's school office. This is a unique opportunity for everyone to eat together and will hopefully make it easier for students and families to confidently check breakfast and lunch off their list.
Programs that Encourage Fun and Discovery
Chartwells continues to inspire healthy eating habits and spark a culinary curiosity to last a lifetime through fun and engaging programs, including:
Global Eats: Highlighting the unique ingredients and authentic flavors from cuisines around the world, Global Eats brings a world of flavors to the cafeteria. Our newest signature program takes students on a food exploration that celebrates cultural heritages, traveling through China, India, Italy, Mexico, and more.

Discovery Kitchen: Designed to make nutrition education fun and entertaining, Chartwells chefs and dietitians have worked together to create curriculums that get kids cooking, trying new foods, and learning about what they're eating. Each month has a different theme and activities will be adapted for the current meal programs. For example, October is "Seed to Table" and December is "Spice it Up".

Mood Boost: This innovative program helps elementary and middle school students connect what they eat with how they feel. It features recipes and characters that focus on six moods: Smart, Happy, Confident, Alert, Strong and Calm.

Student Choice: Giving middle and high school students a voice in deciding what food concepts are featured and new menu items that will be available, Student Choice brings the latest food trends to school menus.
Inviting Environments & Happy Cafeterias
Students need a place to eat where they can connect with others, recharge, and enjoy a sense of happiness and a meal with their classmates. The cafeteria at Dundee Middle School is getting a new look this year with Chartwells' Pop-Art design concept.
Menus, Nutrition Facts at Your Fingertips
Chartwells K12 continues to bring technology to the forefront of the dining experience to help students and their parents prioritize healthy food choices and understand ingredients so they can help protect children from allergic reactions. Through Nutrislice, an innovative app, students, parents and faculty have access to school menus, including nutrition information, allergens and photos. Nutrislice can be downloaded for free from the App store (iOS) or Google Play (Android) and is available on desktop and mobile devices. Menus are also available on the web.
Celebrating School Lunch Heroes
As kids advance from grade to grade with new classes and different teachers, the dedicated lunch ladies and men in the school cafeteria are often one of the few constants throughout the academic journey. Throughout the school year, these heroes of the cafeteria are dedicated to making mealtime a bright spot in a student's day, ensuring kids throughout the Dundee community are served nourishing meals.
We are always looking for talented individuals to join the dining services team with perks including, family friendly schedules, no night or weekend work, hiring incentives, and more. For more information, visit www.careers.compassgroupcareers.com Chartwells website.
Through sharing their passion for great tasting food, instilling a sense of food discovery, and most importantly, providing nourishing meals, Chartwells is excited to continue serving up happy and healthy to Dundee Community Schools in the year ahead.
About Chartwells K12
Chartwells K12's goal is to make sure students leave the cafeteria happier and healthier than they came in, by serving food kids love to eat and creating custom dining programs. With more than 16,000 associates in 4,500 schools, ranging from large public institutions to small charter and private schools, Chartwells K12 is built on decades of food, education and operational experience driven by top culinary, nutrition, wellness, and sustainability talent. For more information, visit www.ChartwellsK12.com.
About
Dundee Community Schools
Welcome to Dundee Community Schools, located near historic downtown Dundee, MI. We believe deeply in our motto, "Students First," and we embody that vision daily through four simple words: Inspire, Educate, Innovate, and Celebrate!
DCS has been implementing our district strategic plan since 2017, and as a result of this work and the support of our community, our students continue to excel and engage with our community. As a district, we are working to continuously grow and improve and are committed to the success of all of our students, in all of our schools.
Dundee is known as the "Hub of the Highways." Situated on the scenic River Raisin in Southeast Michigan, we are just minutes away from Ann Arbor or Toledo on US23. It's the perfect place for families to live, play, and grow.
Come see what our schools are all about!
Thank you,
Crystal Lee
734-529-6114
How to Find a Meet Up and Eat Up Site
Call 2-1-1
Text 'food' to 877-877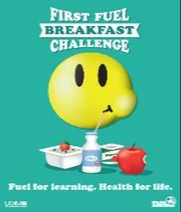 All Dundee Community Schools Service Breakfast!
(Breakfast served in the building main café)
Dundee High School & Middle School breakfast times:
7:15AM - 7:30AM Monday – Friday
Elementary Breakfast times:
8:15AM- 8:35AM Monday - Friday
All students can enjoy Breakfast and Lunch Meals
Mornings can be really crazy…the alarm doesn't go off…the kids don't want to get up…there's no time to eat breakfast before the bus arrives…or they're just not ready to eat. Or maybe your teenager grabs a can of soda pop and a candy bar on the way to school. If this sounds like your house, we have good news for you!
Breakfast is served at your school! School Breakfast helps students be more alert, so they can learn more in class. Breakfast has vitamins and nutrients for a strong and healthy body.
Breakfast is affordable, too. If you qualify for free and reduced-price meals, you also qualify for the breakfast and lunch program, with no additional paperwork! You can't find a healthy breakfast at such a low cost anywhere else.